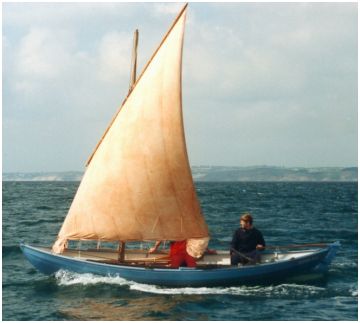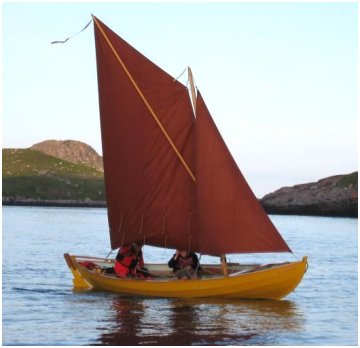 Between Youkou-Lili and me, it is a love story. It is a boat that I have imagined, drawn, and built in my garage, and launched finally in 1985. I wanted an excellent boat both under sail and under oars. Aven, then the reference boat, did not satisfy me with its rowing performances. Youkou-Lili, is inspired both by the Norwegian "faering", and by the American "Swamscott dory" (flat bottom). Both are excellent rowing boats with good sea-keeping abilities. Originally I intended to make it with timber planks, varnished or oiled. But beside the difficulty of finding good quality large planks, I realised the boat could as well be built with plywood, without making this substitution apparent. The plywood is painted, and this is conforming to the aesthetics of a small traditional boat. Built that way, Youkou-Lili could sail several decades without aging. It met the marshes of Brière, the Erdre river near Nantes, the waters of North and South Brittany, the Iroise sea at the extreme West of France (picture), the Connemara in Ireland, Norwegian lakes and fjords....
I have tried successively the sprit-sail sloop rig and the dipping lug, and when I sold the boat, the standing lug sail. I like much the sprit-sail, unrecognized and typical of many Northern Europe boats. But after the first years, I have fitted the dipping lug sail (picture). It is a demanding rig. You have to gybe (pass the yard from one side to the other), which can be done within seconds with practice. But it is the best performing traditional rig, due to sail always well apart from the mast. Whether sailing or rowing, Youkou-Lili had always the first place in the sail and oars contests it participated.

The plans of the boat are now offered for sale, and the name of my ship became the name of the series. One of them won the "Great Glenn Raid" in its category in Scotland, which proves the quality of the boat. In 2004 I have updated all drawings, incorporating many improvements and to make construction easier. Full-scale polyester patterns are also available. Besides existing one, I propose a new sail plan, consisting of lug sail and jib, very suitable for this long hull.


Kit, as well as ready-to-sail boats are marketed by Icarai, my son's company, who has spent a lot of time sailing with me on Youkou-Lili.




Kits (in particular set of NC cut plywood), as well as finished boats, are also availble from Clint Chase Boat Builder in the USA. Ask them for quotations.