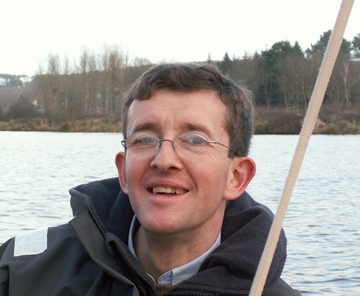 Grand-Largue boatyard was founded in 1998 by Pierre-Yves de la Rivière. It is located near Dinan, a beautiful historic small town in Northern Brittany, France, not far from the maritime city of Saint Malo. The river Rance run not far from the yard and is the usual place for the trials of newbuildings.
Pierre-Yves started his business making the first Stir Ven. Since then, he is building wooden classic boats on my design, mainly plywood lapstrake ones. With Pierre Yves, we have improved, step by step, modern construction methods based in particular on the use of numerically controlled cutting machines. This gives hulls that are both very strong and long-lasting, particularly suited for trailerable boats. Using both plywood and epoxy produces boats which does not require more maintenance than a similar classic boat with a grp hull. Pierre-Yves knows how to select wood timbers and bronze fittings, apply striking varnishes and choose appealing colours to make lovely boats. I like very much the spirit and taste of his boats, beautiful but without extra sophistication, really good and seaworthy boats for the demanding yachtman.

Grand-Largue is the exclusive builder for France of Laïta, Minahouet, Béniguet, Stir-Ven and Méaban. It may also build some others of my designs. Full or partial kits are also proposed for all these boats, as well as specific parts.



Contact : Grand Largue
Le Saudrais, 22100 Calorguen
Tel : 33 (0)2 96 88 01 03 - Mobile : 33 (0)6 22 07 71 41
Fax : 33 (0)2 96 88 02 52 - E-mail : py.delariviere@free.fr