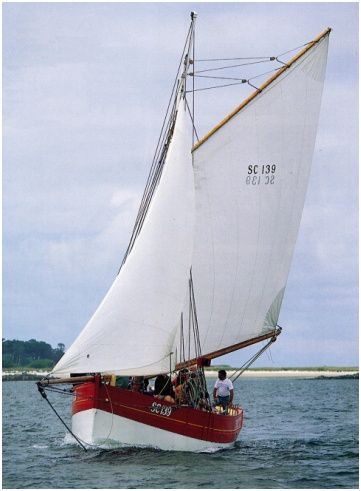 Pettifox, a beautiful breton "langoustier", 11 m long,
custom built in Scilly islands
You are looking for a professionally built boat ...
Aside from mass produced boats, many small boat-builders are offering boats for more specific use or style. With Aven for wood and Seil for grp, each built at more than a hundred units, I started 26 years ago to work with professional boat-builders.
All designs included in my stock plans catalogue may be built by professional builders. I intend to continuously widen the list, mainly with larger yachts.

I have also designed many custom built boats, in particular heritage boats. According to your need and the boat-builder experience, I may provide only basic plans (lines, sail plan, scantlings...) or a complete set of drawings including detailed structure plan, specific fittings, accommodations, engine arrangement, etc...).
If the boat is to sail under a EC country flag, I will also ensure compliance with the requirements of the Recreative Craft Directive. On traditional or classic boats, even open ones, it is always possible to find solutions to get the demanded level of safety still keeping a high level of authenticity.
If a particular boat made an impression, because you sailed on board in the past, or you get touched by a boat picture of a sailing tale, it is always possible to redraw a new boat, as close as possible to the one you have in mind, on the basis of photographic or other documents. I have a large collection of plans and documents, which may complement yours.

... and for a boat-builder
I have already cooperation agreements with some boat-builders which are listed hereunder. They are used to work with me and I am sure you will get an excellent job. I am also ready to work with any other builders in your country or area, working traditionally or with modern methods.