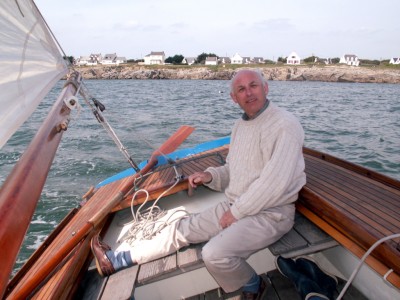 It is in the beginning of the Sixties that I was initiated to sailing, when the boats were still mainly in wood, outcomes of the shared creation of an architect and a boat builder.
Sailing in symbiosis with the sea, beautifully manoeuvering under sails, feeling out of the time and the concern of the everyday life, admiring a beautiful boat, keeping the memory of the generations of seamen who have preceded us, steering a boat going fast to windward, discovering still preserved places, taking advantage of the wind and currents, and doing without engine, all that constitutes my passion for the boats.
Educated as an engineer and a naval architect, cofounder of the magazine "Le Chasse-Marée", having exerted responsibilities in the "great" shipbuilding industry and the maritime transport, and lastly as director of the French Shipbuilding Research Institute,
I had to know all kinds of boats, sail boats and yachts, fishing boats, merchants ships, cruise vessels, and navy ships.
But especially, for more than 30 years I have had, as a naval architect, contributed to the revival of the traditional sailing, heritage boats building, to the development of sail and oars boats and home-building. Having built myself several boats and having sailed on many traditional or classics, I have always had at heart to draw nice and seaworthy boats, and easily built by amateurs.
It is what I would like you to discover through this site, hoping to create or recreate other ways of sailing, more authentic, more convivial, truer, and purer.
Since the autumn 2003, I have settled my own business as a full-time naval architect. More practically I work as a freelancer at home in Pornichet, France. Feel free to contact me by email or by phone. I try to be accessible to all and my English is reasonably fluent. If I do not answer, I'm at sea, or with the family … or overwhelmed. I love my job and I am eager to provide clear plans and especially to design a good and beautiful boat. The counterpart is that you sometimes need to be patient. One last point: thank you for sending me news and photos of the boat that you built or bought and contribute to a larger family of "Vivier boats" fans.